We are a UX design agency based in Belfast and Dublin. We balance design with logic to build robust yet beautiful user online experiences.
We design to simplify. We're a UI UK design agency that pays attention to all aspects of the user experience, including emotions and interactions, to determine the overall experience and successfully offer products to your market. We use a blend of user-centric ideology backed by modern technology to improve functionality across all of our services. Whether it's a Mobile App Development, Software Development, Ecommerce or Web Design project.

Start a project with us
User Experience Experts
---
Want a digital product you can brag about that is both visually strong and user-friendly?
We're one of the top UX design agencies in Northern Ireland, with offices in Belfast and Dublin, servicing UK and international clients. We can help you create incredible UX designs because we understand and fulfil the needs of both your business and users. From content strategy to brand and design system development. We got it covered for you.
We live and swear by the art and science of generating positive, sort-of addictive but, you know, the good-kind of addictive, experience for all people who interact with your products or services, taking the overall user experience on a different level. Get in touch with us for some of the best UX and UI web design services.

Book a discovery session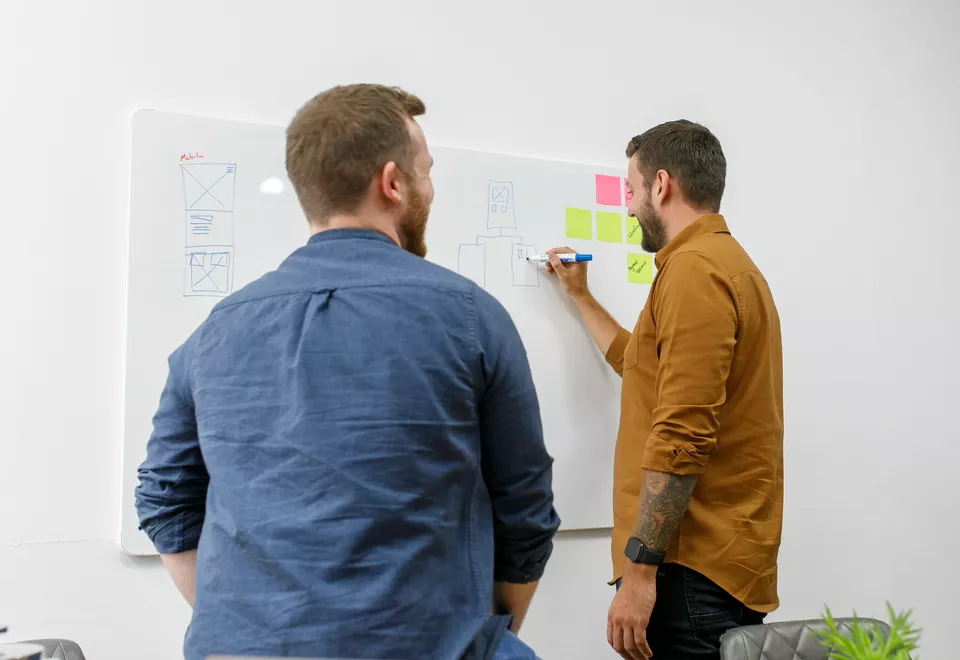 Our team of creative designers will bring your visions into life.
Mobile App Design
We are also Mobile App Developers, our UX design team can design iOS apps, Android apps and Hybrid mobile apps.
Read more
Software Design
We design and engineer custom software ranging from streamlining business processes to designing and developing ideas.
Read more
Web Design
Custom web design and web development with a user-first approach. Give your brand a unique online presence.
Read more
Ecommerce Design
Our team know how to convert through well thought out design. Sell products online, to your customers 24/7.
Read more
Web Applications
Turn your website into a web application, for your users or to streamline your business processes. Anything is achievable.
Responsive Design
Designed and developed for mobile phones and tablets, allowing your customers to access anywhere.
Let's answer some queries we get regularly
We get asked some frequent questions from our clients. Let's see if we are a fit.

What is UX Design?

UX, or User Experience came about quite some time ago and was coined by a man named Don Norman while working at Apple. Don Norman explains that UX is about the entire experience that the user has when using a product or service. This could be the user experience when dealing with customer service, when opening a package/box, using an app on your phone or buying a product online.

Does the experience feel smooth and intuitive or clunky and confusing?
Does the experience feel logical or does it feel arbitrary?
Does the interactions give you the sense that they're efficiently accomplishing the tasks they set out to achieve or does it feel like a struggle?

What UX process do you follow?

We follow a strict UX process which consists of user research and insights, user personas, user journeys, wireframing, design and prototyping, testing and then front-end development.

How much input will I have over the design?

You will be given access to your design visuals via Figma. This will enable you to review the designs and provide feedback/input at every stage of the UX design process.

Can I view the visuals during the design process?

Yes, we use Figma and will provide you with access to the visuals so that you can review them at every step of the UX design process. Some clients prefer to receive PDFs, if that's you then let us know!
We are a full-service digital agency
Some featured projects we've completed for our lovely clients