We are a Mobile App Development Agency based in Belfast, Northern Ireland. Whether you're a startup with an app design idea, or a transforming business that needs an app. Our team of mobile app experts can help get you up and running.
We've helped startups bring their idea to life and we've helped companies build mobile apps for their staff and customers. Our talented and creative mobile app developers will work alongside you in collaboration to build a user-friendly, functional app that talks to your audience. Android, iOS, Hybrid, PWAs, React Native, Ionic - we understand all approaches to Mobile App Design. Our mobile app development services start with consulting and end with a fully bespoke product complete with maintenance plan.
Start your Mobile App project
Mobile App Experts
Native or Hybrid
Have a start-up idea, or are you a well-established company? It doesn't matter to us. We work with all businesses.

We're a leading full-service mobile app development company. We develop mobile apps to serve your audience. They should be simple to use, but functional. We don't just design good looking apps. Here at Myth we understand all aspects of a successful app from user experience design through development and testing, to iOS and Android app development.
We understand developing mobile apps can sound complicated and we understand most people don't know where to start or what they need. Which is why we offer a pre-project discovery session to discuss your ideas.
Book a discovery session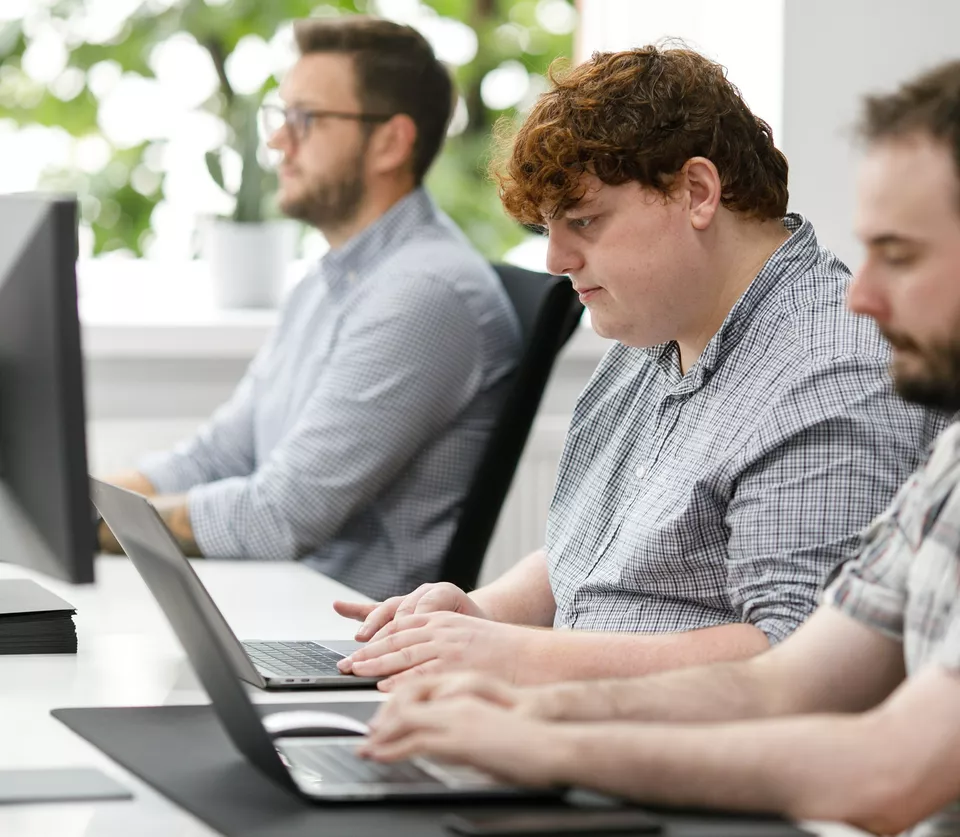 There are many approaches to mobile app development, we'll help you choose.
Hybrid App
This is our preferred custom mobile app development approach, we develop one app that can be submitted to Android and iOS. React Native is a framework that allows you to build a mobile app that can be managed via one single app and submitted to any App Store.
One single codebase
Cross platform for iOS and Android
Updates to your app only need done once
Used by Facebook, Instagram and many others
Most cost effective option
Native App
Our bespoke mobile app development studio delivers mobile app development projects using many frameworks including, React Native, Xamarin, Flutter, Ionic and others. However if your app needs a fully native mobile application, we also have experience developing native iOS and Android apps using Swift, Java and Objective-C.

Full native device support
Larger budget required
We are your go-to agency for all your mobile app development needs.
Consulting
Professional and comprehensive business needs analysis to define and prioritise necessary features.
Mobile App Design
Well-thought user experience design optimised specifically for your target audience to maximise usability.

Read more
Mobile App Development
Original concepts or web-to-mobile app conversion, we can handle app implementation in all forms.
Read more
Backend Development
Backend software development with custom a control panel for managing app data and functionality.
Read more
QA and Support
A robust, bespoke, Agile inspired development process with quality assurance and testing at its core.
Read more
App Evolution
Flexible development to allow new features and functionality to be bolted on as your app scales.

Let's answer some queries we get regularly
We get asked some frequent questions about mobile phone app development from our clients. Let's see if we are a fit.

What is the difference between Hybrid and Native apps?

A hybrid mobile application is an app that works on both iOS and Android but uses one single codebase that gets compiled into the languages that both iOS and Android support. In other words, a hybrid app will support any mobile operating system and will only need to be developed once. We've written an article about this, you can read more on this subject here.

Will I need a hybrid or native app?

The best way for us to answer this question is to chat with our mobile app experts. As mentioned above, we usually recommend hybrid apps. After all, they work for Facebook, Instagram, Twitter and many other globally used mobile apps. We do this because it makes the most sense both financially and technically. We could charge fees twice to develop for you an app for iOS and an app for Android. We could also charge you the same fees twice for after-care and development for new features, but we don't think that you need to pay that or more importantly should pay that.

There are valid exceptions to the above for some projects that require a completely native app for iOS or/and a native app for Android for either technical or business reasons. In order for us to identify what you need, we need to understand your project and requirements. Give us a call and we'll help you with that.

What is the difference between React Native and Ionic apps?

Our team has experience working with multiple market leading hybrid frameworks. We suggest you read more about the different mobile app hybrid frameworks here. In short, the major differences between the two frameworks we use is a) time-to-develop and b) performance. Ionic has a much quicker time-to-develop based on it having a more "web-like" approach. Which keeps your costs down and time to market quicker. React Native however, offers a more native like approach to mobile app development along with a performance boost. It may take longer and cost more, but offers a more superior mobile app experience. When deciding React Native or Ionic, the questions we usually ask are centred around budget, timeframes, business requirements and technical requirements. It's not something that we can answer here, but get in touch and ask us!

How long will it take for you to build my app?

That depends on the complexity of the project and whether you are developing hybrid or native. We follow a bespoke software development process that we know takes a minimum amount of time. Depending on your custom requirements, there is no estimate that fits all projects. As a guideline, don't expect to get an Ionic hybrid app developed in less than 8 weeks, or a React Native hybrid app developed in less than 12 weeks. If you need native, that will be a minimum of 16 weeks per app required.

Will my app work on Apple and Android phones?

Of course, if you need. It depends on your approach. Have a look at the previous questions to help understand the difference between native vs hybrid. If you need one app that works across all phones, then go hybrid. If you need an app that works specifically on Apple or Android, go native.

Will you manage submission to the app store?

Yes. We offer the full service, all we need from you is your vision. We'll submit your apps to all of the app stores and manage the full process of dealing with compliance and verification with Apple and Android. Just tell us what you want.
Some featured mobile apps we've completed for our clients