Startups — Let's Elevate Together! 🚀
You're in the right place. Launching a vision or refining your journey? We're not just about coding solutions; we're about building partnerships and shared growth. From ideation to post-launch evolution, we align with startups at every phase.
Let's get you to the right place...
How we can help your startup…
Prototype
Our go-to-market startup launch pack will equip you with all of the tools for validation and funding. We'll help you with:
Fast prototyping
Proof of Concept
Branding and Identity
Explore our Startup Launch Pack
MVP Development
Transition your prototype to a functional MVP, ready to impress users and investors. We'll help you with:
Robust MVP Development
User-Centered Design
Strategic Product Planning
Explore our MVP Development
Growth
Expand your team's capabilities, accelerate development, and meet your tech goals. We'll help you with:
Inspiring UX Design
Expert Software Development
Team Augmentation Support
Explore our Startup Accelerator
Trust us, we know how to launch successful projects
We know what matters
We've worked with enough startups to know what they need. From delays to budget constraints to managing investor expectations, it's all in our toolbox. Your product needs to be:
On schedule — Delays are business critical

Launching a startup is a race against time. In a rapidly evolving marketplace, a delay can mean missing a critical window of opportunity. But delays can also kill startups. Being on time isn't just a nicety; it's a necessity.

What we've seen in the startup world

Launch dates constantly shift.
Tasks seem endless, with no clear milestones.
Key market opportunities slip away.

How we're different

We define and commit to precise timelines.
Milestones are set and tracked diligently.
Our team ensures every step aligns with your startup's pacing.

With our hands on the wheel, timelines aren't just estimates; they're commitments.

On cost — Know what you're paying

For startups, financial constraints are a reality. Ensuring every penny or cent is wisely allocated can mean the difference between thriving and barely surviving. Efficient budgeting is the key to sustainability.


What we've seen in the startup world

Unexpected costs frequently emerge.
Projects' financial demands balloon over time.
Resources are spent without tracking returns.

How we're different

We lay out a transparent project budget from the start.
Our price doesn't change unless we agree on a scope change.
We charge in milestones, and you pay when you're happy.

We're very clear on our fees, you'll never be charged for work unless formally agreed and signed off.

On point — Good quality is the differentiator

In a saturated market, quality is key to attracting and retaining users. Building something exceptional is not just about setting standards; it's about exceeding them.

What we've seen in the startup world

Bootstrapping startups release products without the right expertise, leading to poor quality.
Quick releases lead to overlooked issues.
Hasty choices result in subpar products.

How we're different

We have a team of 12 experts across design and development.
We conduct rigorous quality checks before release.
Our development prioritises quality over speed.

We never cut corners, quality is central to our approach. It guides every design and development choice we make.
We can handle everything SaaS and Startup Tech.
---
Our Tech Audit
When you're passionately forging ahead with your SaaS product or startup tech, the initial journey often starts lean. Perhaps you've leaned on freelancers or sought cost-effective solutions from platforms like Upwork. While this approach may get things off the ground, it can lead to a tangled codebase, lacking the foundation for future growth. Such compromises can be ticking time bombs, waiting to derail your vision.
Our free tech audit goes beneath the surface:
Deep-diving into architecture and scalability
Ensuring top-notch security and performance
Providing a comprehensive UX review with expert feedback
No strings attached. While we'd be thrilled to partner for improvements, feel free to use our insights as you see fit. We're here to guide, not to sell.

Book a Free Tech Audit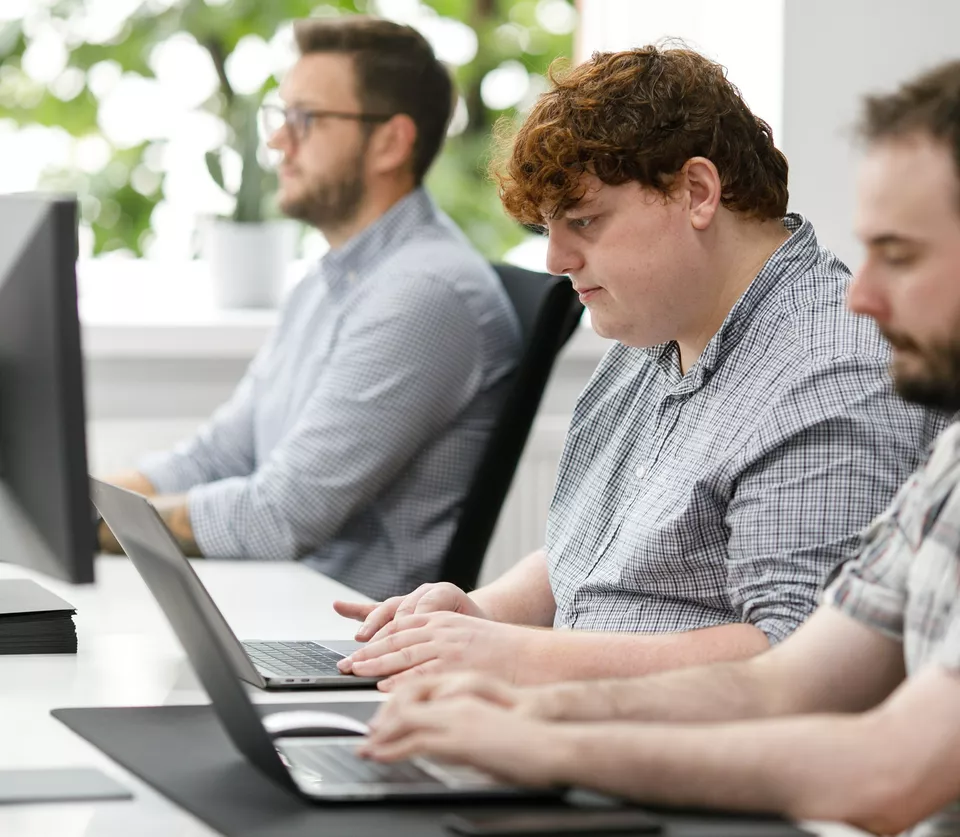 Okay, what's next?
We've created a transparent and structured process to ensure your startup's vision can turn into reality. Let's dive into what's next:
Let's talk – in 24 hours
During a relaxed call or coffee, you can tell us all about your project (NDA'd of course). We may have several meetings depending on the complexity of your product, to help us fully understand the project.
We'll discuss:
Your expectations
Your timelines and budget
Your overarching goal and vision
If you like us, and we like you, we'll go away and begin preparing a proposal for the project outlining our approach and costs.
Cost your project – in 3-5 days
Once we're certain we've understood your requirements, we'll put together a straight-to-the-point proposal, outlining the scope and deliverables. We'll itemise our costs as clearly as possible, no BS.
Our proposal includes:
Our understanding of the project
Our approach to the project
Our deliverables
Our costs + payment milestones
These costs are just the beginning, we always welcome further conversation to find an approach the works for everyone.
Getting started – in 1-2 weeks
If you're happy, and we're happy. Then it's time to get started. We'll issue you some paperwork and a deposit for the project based on the agreed milestones.
After this, we begin planning:
Software Architecture
Software Requirements
Project Plan Schedule
We start all projects with our successful 'Discovery' session, deep diving straight into your project.
Let's talk about your project
We love what we do.
Ask our customers or those who know us, we love what we do. When you partner with us, you partner with a passionate design and software development team whose core aim is to help startups grow, thrive, attract and retain customers.

We know SaaS and startups.
We have a successful track record of partnering with startups to build tech products. We've seen the ups, the downs, and the in-betweens. With us, you're partnering with a team that understands your challenges, anticipates your needs, and is ready to join forces and tackle them with you.
We're very good.
Okay, we sound a bit boastful, but excellence is our second nature. We have a portfolio of successful projects and pride ourselves on delivering quality products consistently. When you work with us, you work with experts across UX design, software engineering and commercial.

We write startup content and startup resources